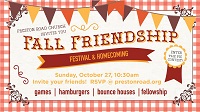 Fall Friendship Festival & Homecoming
Invite your friends to worship with us and stay for lunch!  We are looking forward to a great day to welcome old friends and meet new ones.  Following the 10:45 worship gathering, enjoy a grilled hamburger, chicken or hot dog.  There will be games and bounce houses in the parking lot with seating in the Gym.  Be sure to RSVP to provide a headcount for food, and also enter the Pie Contest!
Note: The parking lot will be closed Sunday, October 27. Please park at Highland Park High School (vicinity & garage) and walk if you are able. Valet service will be available for those in need at the McFarlin entrance.