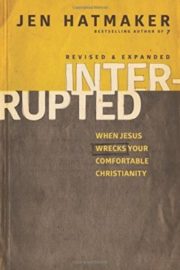 Ladies Summer Bible Study
All Ladies are invited to join us this summer for a Tuesday morning bible study. We will be reading/processing together Jen Hatmaker's book Interrupted – When Jesus Wrecks your Comfortable Christianity.
There will be childcare available each week ($50 per family).
The Children's Ministry will offer a Terrific Tuesday event each month for the kiddos during this same time!
June 19th – Petting Zoo
July 17th – Bounce House
August 7th – Critterman