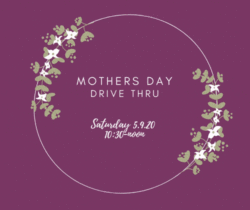 Mother's Day Drive-Thru
Come drive thru the Preston Road Church of Christ parking lot!  We would love to see you… from a safe social distance, of course!
We will be smiling behind our masks and waving with gloved hands, but it will still be us! We have lots of great things to hand out, come and get whatever you need!
-Mother's Day Gifts-
-Communion Supplies-
-Toilet Paper-
-Face Masks-
Please plan to stay inside your car the entire time!